DONATE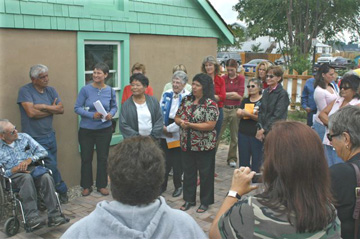 To make a donation or to the general fund or for a specific event, checks can be made payable to Museo de Las Tres Colonias.
BUY A BRICK CAMPAIGN!

A walk of brick pavers has been included to thank and honor community members who have contributed to the Museo del las Tres Colonias. Please join in!
__ $75 & up – Individual or Family (3 lines of text)

__ $50 & up – Individual or Family (2 lines of text)

__ $200 – Business (3 lines of text)

The Museo is a non-profit organization run entirely by volunteers. It's continued existence and future growth like the Interpretive Center, community events like the Las Posadas gift give-away and increasing public hours for tours depends on people like you!
Support the educational and community building mission by donating via check. If you wish to send a donation with your credit card or PayPal account, click one of the "Donate" buttons.

José De Onís es-farma ESPANOL

Checks can be mailed to:
Museo De Las Tres Colonias
In care of Betty Aragon.

140 2nd St.
Fort Collins, CO 80524

Please make checks payable to Museo De Las Tres Colonias
Be sure to note in the subject line if the donation is for a specific event or general fund.